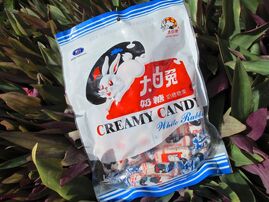 China
Shanghai Guan Sheng Yuan Food, Ltd. 
Description
Edit
White Rabbit Creamy Candy is kind of like American Tootsie Rolls--albeit milky and cream-like. The little cylinders are soft and chewy in texture, with a creamy vanilla flavour. Underneath their wrappers are additional thin coverings of edible rice paper.
Advertisement
Edit
This stylistic commercial contains bright colours that resonate well with its Chinese audience.
Ingredients
Edit
Liquid maltose, white granulated sugar, sweetened condensed milk, whole milk powder, butter, food additives (gelatin, vanilin), edible glutinous rice paper (corn starch).
Nutritional Information
Edit
Where to Buy
Edit
This candy can be purchased on http://www.asianfoodgrocer.com/product/white-rabbit-creamy-milk-candy.
Ad blocker interference detected!
Wikia is a free-to-use site that makes money from advertising. We have a modified experience for viewers using ad blockers

Wikia is not accessible if you've made further modifications. Remove the custom ad blocker rule(s) and the page will load as expected.