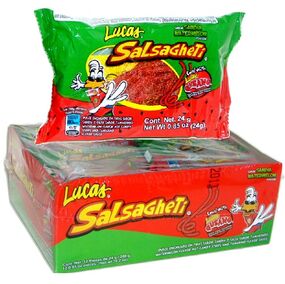 Mexico
lucas
Description
Edit
Salsaghetti is a strange little number. It is made up of watermelon flavoured gummy noodles that are dusted with hot sauce and spicy sprinkles. These candy strips are spicy, sweet, and sour all in one. Certainly not for everyone, but quite tasty for those who enjoy the combination.
Advertisement
Edit
Popular though this candy is in Mexico, it is difficult to find a trailer online.
Ingredients
Edit
Hot Watermelon Candy Straws: Wheat Flour, Corn Syrup, High Fructose Corn Syrup, Sugar, Dextrose, Citric Acid, Chili Powder, Less than 2% - Hydrogenated Palm Kernel Oil, Salt, Sorbitol, Glycerin, Wheat Fiber, Malic Acid, Lactic Acid, Sodium Citrate, Sodium Lactate, Potassium Sorbate and Sodium Benzoate to Maintain Freshness, Mono and Diglycerides, Soy Lecithin, Artificial Flavor, Coloring (Red 40). Tamarind Sauce: Water, Sugar, Salt, Citric Acid, Chili Powder, Modified Corn Starch, Carboxymethylcellulose Gum, Gum Acacia, Xanthan Gum, Potassium Sorbate and Sodium Benzoate to Maintain Freshness, Caramel Color, Ascorbic Acid, Artificial Flavor.
Nutritional Information
Edit
Where to Buy
Edit
Salsaghetti can be purchased, though in large quantities, from http://www.candystore.com/salsaghetti/.
Ad blocker interference detected!
Wikia is a free-to-use site that makes money from advertising. We have a modified experience for viewers using ad blockers

Wikia is not accessible if you've made further modifications. Remove the custom ad blocker rule(s) and the page will load as expected.