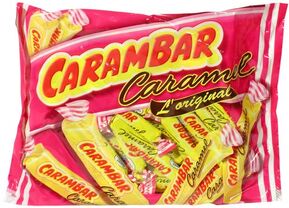 France
Description
Edit
Carambar caramel is a simple, but delicious, candy. It is simply a scrumptious log of caramel!
Advertisement
Edit
France can be a strange and open country! It's hard to say whether or not such an exotic commercial would successfully sell any candies in America.
Ingredients
Edit
Sugar, Glucose syrup, Fat free concentrated milk, Hydrogenated copra oil, Fat free cocoa, Salt, Jelly.
Nutritional Information
Edit
Where to Buy
Edit
Carambar Caramel can be purchased from Amazon.com.
Ad blocker interference detected!
Wikia is a free-to-use site that makes money from advertising. We have a modified experience for viewers using ad blockers

Wikia is not accessible if you've made further modifications. Remove the custom ad blocker rule(s) and the page will load as expected.